MOTOR BOATS RENTAL
NO LICENSE REQUIRED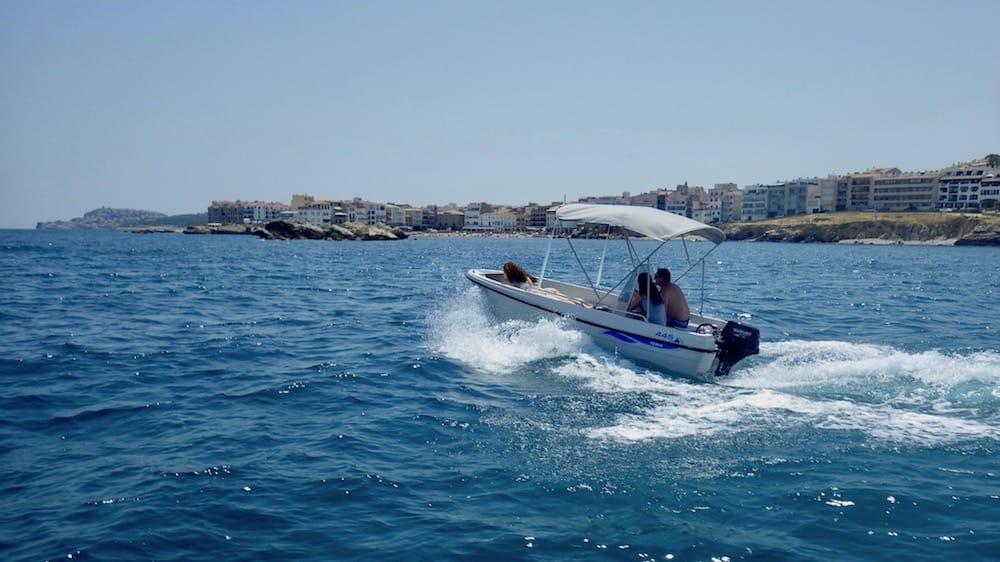 RENTAL OF MOTOR BOATS
NO NEED FOR A LICENCE
These motorboats are equipped with a 15 hp engine, and being under 5 metres long they can be rented with no need for a permit or licence. The Terhi 445 can be occupied by up to 7 people or 5 if they are all adults. The person renting the powerboat must be of legal age and be onboard.
The boat is supplied with mooring equipment and the obligatory safety equipment. A bimini parasol boat shade is supplied and a "solarium pack" option is available from reduced crew. This pack turns the bow into a cushioned platform on which to stretch out and soak up some sun.
Power boat hire
Check out the boat rentals rates further down on this page: .
Book now calling +34 603575109 or filling out the form that you'll find further bellow.
Find us on Riells Beach, at the end of the seafront promenade of L'Escala, next to the breakwater.
Rent a boat and explore the coastline of L'Escala from the sea.
Before you start sailing, you get a familiarisation session with the motorboat, including explanations of how to operate and handle it, safety measures and some advice on suitable places for dropping anchor. The boat is handed over with the fuel tank full and must be returned in the same state. The average fuel consumption rate is 4 litres/hour. Sailing is restricted to the L'Escala coastline, from St. Martí d'Empúries to Cala Montgó. A map of the area is provided.
Terhi 445
4h - 10h00 to 14h00 / 14h30 to 18h30
RENTAL OF MOTOR BOATS
It's advisable to book the boat as far in advance as possible.
Age: the person renting the boat must be over 18 years old.
No previous experience necessary.
A deposit of 200€ in cash is required. It will be refunded when the boat is returned safely.
Includes: life jacket, boat, safety pack, mooring equipment, compulsory third-party (CTP) insurance and occupant insurance.
First-party insurance cover is not included.
Petrol not included. Fuel policy: "full-full". Fuel consumption of approximately 4 litres per hour of engine operation.
You should take a towel, drink, sunscreen, sunglasses, a hat… and a swimming costume of course!! You can bring an ice cube bag to take advantage of the isothermal drum on board.
If you have snorkelling equipment, we recommend taking it in order to explore and further enjoy the sea.
CHECK AVAILABILITY
FOR POWER BOATS – NO LICENCE REQUIRED
Tel. (+34) 603575109 – info @ funtastic.cat