FLITEBOARD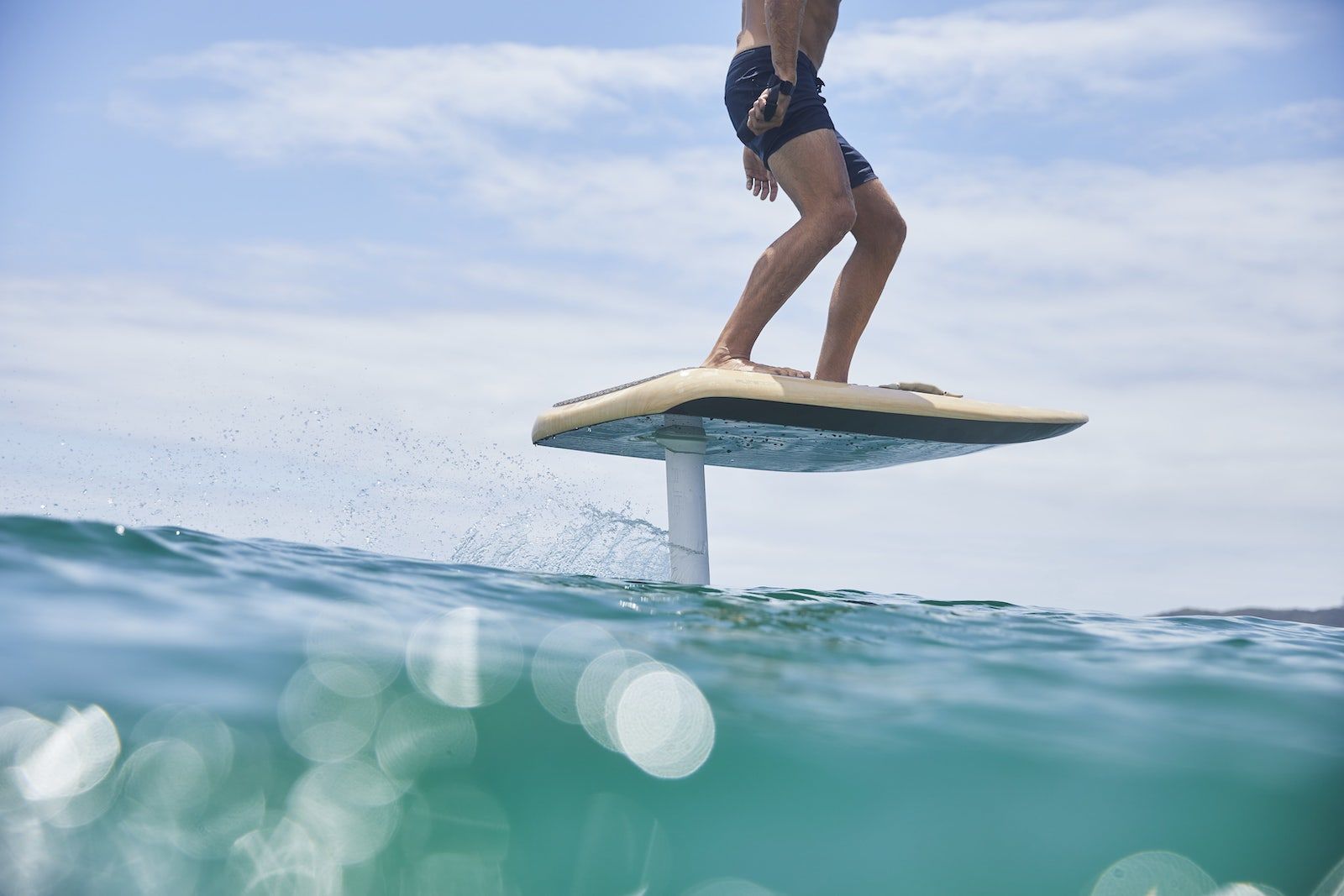 What is Fliteboard?
Imagine a water craft that flies smoothly
above the water at exhilarating speeds.
It doesn't rely upon wind or waves, and
gives you the freedom to travel for up to
30km per charge.
Imagine a water craft so responsive that
even the most subtle movements bank
turns or change your flying altitude;
providing endless freedom and expression.
Imagine a water craft that combines the
efficiency of hydrofoil wings, with the latest
in electric vehicle and battery technology
— to create a fast, clean, quiet, powerful
ride like nothing before it.
This is Fliteboard.
FLY SURFING – SURF FLYING
When it comes to water sports, Fliteboard is the ultimate experience that goes beyond jet skis and wetbikes. You will fly while sailing, without smoke, without smells, without noises … The feeling of peace and freedom is maximum, you will feel euphoric. You will never forget it but be careful, it can create addiction!
See the rates for the different sessions on this page.
Book now by calling +34 603 575 109 or by filling in the form at the bottom of the page.
Find us at the end of Riells Beach, right next to the breakwater.
LET'S GO FOR IT…
Funtastic offers you the possibility to enjoy this new activity that although it is available to everyone, it is also a challenge for experienced water sports enthusiasts.
Classes and supervised outings
First you will receive an introduction on land about the use and control of the Fliteboard.
Once equipped, you will go out on the water accompanied by a safety boat with an instructor, who will be in permanent contact with you through a microphone integrated in the helmet, so that you can communicate at all times, whether you fly or… swim!
You have different options, from a test ride to a subscription that will allow you to continue enjoying and improving. It is necessary that at least two Fliteboards go out for a 20 minutes ride.
The practice of this activity can be affected by the waves or the wind if it is strong. For this reason we propose to practice Flitesurf early in the morning, when the wind has not yet blown and the sea is calm or late in the afternoon.
Oh, and don't worry, if you don't already have it as standard, balance is a skill that can be worked on and improves with practice!

NO SMOKE, NO SMELLS ...
FLY SILENTLY
FLITEBOARD, SURFING WITH ELECTRIC FOIL
TEST RIDES, LESSONS AND SUBSCRIPTIONS
Test ride
20 min - 1 person
Lesson
40 min - 1 o 2 people
Ticket XL
90 min - 1 to 3 people
Subscription
4 x40' - 1 o 2 people
Age: From 16 years.
One must know how to swim.
No previous experience required.
Includes: life jacket, helmet, Fliteboard, safety boat and accompanying instructor, liability insurance.
What to bring: swimsuit (towel).
A lycra or thin shirt to can give us more comfort when putting on our buoyancy aid.
Availability of wetsuits for rent (3 €).
For baptism sessions (test rides), at least two boards must go out at a time.
Avoid wearing rings, bracelets, earrings, necklaces …
BOOK NOW
Your Fliteboard ride