BANANA BOAT & RINGO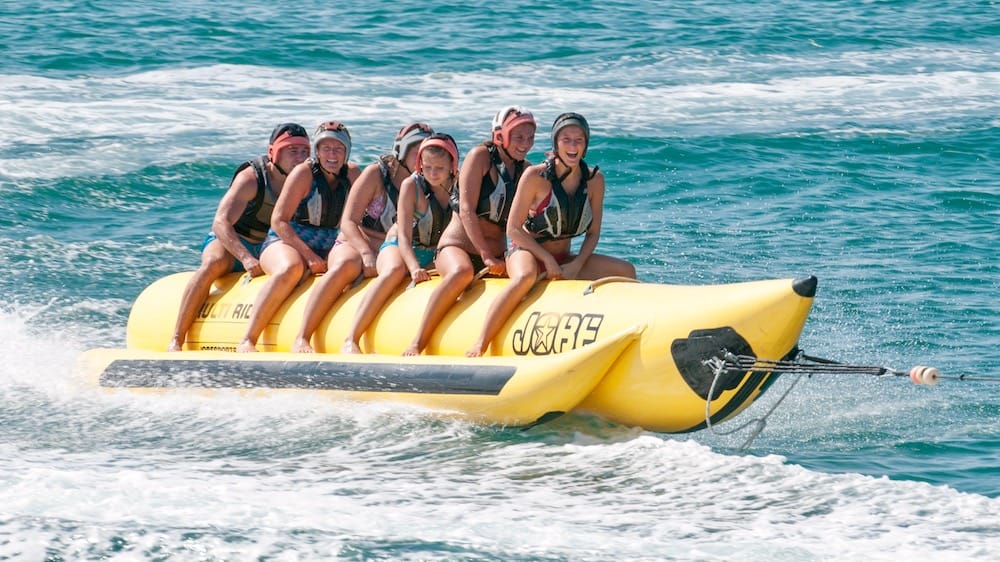 Banana Boat and Ringo
The Ski-Bus, also known as a banana boat, crazy banana or ski tube, is a practical and fun means of transport that consists of a rubber cylinder for up to eight riders that bounces over the waves, towed by a motorboat. You can go on one of our "adrenaline" rides lasting 10 or 15 minutes or use it as a means of transport for trips, exploring the coastline. It's an alternative to kayaking routes, another great way to discover interesting spots along the coast and enjoying the scenic beauty of the area.
The RINGO (or DOUGHNUT) is similar to the ski-bus but sportier and more physically demanding. It's also towed by a motorboat but in this case riders lie facing down. The Ringo is like a big inflatable biscuit on which you can ride alone or in pairs. The motorboat can tow one or two inflatables at the same time. Being so close to the water, you get a thrilling sensation of speed.
See the rates for Ski-Bus and Ringo rides on this page

Book now calling +34 603575109 or filling out the form that you'll find further bellow.
Find us on Riells Beach, at the end of the seafront promenade of L'Escala, next to the breakwater.
Adrenaline pack
10 min. Banana Boat + 10 min. Ringo
• There's no minimum age but you need to be able to swim.
• No previous experience necessary.
• Includes: life jacket, helmet and compulsory third-party (CTP) insurance.
• First-party insurance cover is not included.
• Do not wear rings, necklaces, earrings, bracelets or piercings. They are easy to lose and could cause minor injury to the wearer or other participants.
ASK FOR FURTHER INFORMATION & AVAILABILITY
Or book now calling +34 603575109